BILL NO. 94
(as introduced)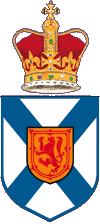 2nd Session, 60th General Assembly
Nova Scotia
56 Elizabeth II, 2007





Private Member's Bill




Poverty Reduction Working Group Act
Stephen McNeil
Annapolis
First Reading: December 10, 2007
Second Reading: December 11, 2007
Third Reading: December 13, 2007 (LINK TO BILL AS PASSED)
Be it enacted by the Governor and Assembly as follows:
1 This Act may be cited as the Poverty Reduction Working Group Act.
2 The purpose of this Act is to appoint a working group to make recommendations concerning a strategy for the reduction of poverty in the Province.
(a) "working group" means the working group established by this Act;
(b) "Ministers" means the Minister of Community Services and the Minister of Environment and Labour.
4 The Ministers shall appoint a working group composed of such persons as the Ministers may determine, including one representative from each of the following:
(a) Department of Community Services;
(b) Department of Environment and Labour;
(c) Community Action on Homelessness;
(d) Community Advocates Network;
(g) Nova Scotia League for Equal Opportunities;
(h) Feminists for Just and Equitable Public Policy;
(i) a regional development agency;
(j) Canadian Federation of Independent Business, Nova Scotia chapter;
(k) Social Corporate Responsibility Council;
(m) Nova Scotia Chiefs of Police Association;
(n) Nova Scotia Federation of Labour;
(o) Black Business Initiative;
(p) a district health authority; and
(q) a group representing aboriginal interests.
5 The working group shall consult as needed with the following departments and agencies of the Government of the Province:
(d) Office of the Advisory Council on the Status of Women;
(e) Nova Scotia Seniors' Secretariat.
6 Subject to Section 8, on or before June 30, 2008, the working group shall, for the purpose of developing recommendations concerning a strategy for the reduction of poverty in the Province,
(a) compare and contrast programs and supports offered in the Province with best practices offered in other jurisdictions;
(b) review the results of the public consultations conducted by the Government; and
(c) make recommendations on strategies and priorities for action to be considered by the Government to address the issue of poverty reduction in the Province, including recommending an implementation plan.
7 (1) The Governor in Council may make regulations respecting any matter the Governor in Council considers necessary or advisable to carry out effectively the intent and purpose of this Act.
(2) The exercise by the Governor in Council of the authority set out in subsection (1) is regulations within the meaning of the Regulations Act.
8 The moneys required for the purpose of this Act shall be paid out of moneys appropriated for that purpose by the Legislature.
---
This page and its contents published by the Office of the Legislative Counsel, Nova Scotia House of Assembly, and © 2007 Crown in right of Nova Scotia. Created December 18, 2007. Send comments to
legc.office@novascotia.ca
.