Back to top
The Sergeant-at-Arms is a permanent officer of the Legislature responsible for security within the Legislative Precinct. The Sergeant-at-Arms is responsible for developing and implementing security policies and procedures, advising the Speaker and Clerk on issues of security, ensuring the safety and security of Members, legislative staff and visitors, supervising security personnel and acting as liaison with elected officials, legislative staff, police and government departments.
The Sergeant-at-Arms is also the Guardian of the Mace which is a symbol of the Speaker's authority when the House is sitting. He assists the Speaker in maintaining order in the Chamber and has a number of ceremonial functions which include leading the Speaker's procession into the Chamber at the start of each day's sitting and preceding the Speaker as he leaves the Chamber at a recess or adjournment of the Assembly. He also announces and escorts the Lieutenant Governor while entering or leaving the Chamber.
The Sergeant-at-Arms is Mr. David Fraser.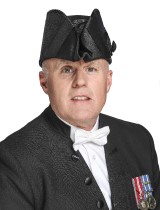 Address:
Province House
PO Box 1617
Halifax, NS B3J 2Y3