BILL NO. 87
(as passed)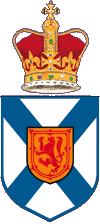 1st Session, 59th General Assembly
Nova Scotia
53 Elizabeth II, 2004





Government Bill




Electricity Act
CHAPTER 25 OF THE ACTS OF 2004






The Honourable Cecil P. Clarke
Minister of Energy
First Reading: September 23, 2004 (LINK TO BILL AS INTRODUCED)
Second Reading: September 27, 2004
Third Reading: October 18, 2004
Royal Assent: October 18, 2004
Be it enacted by the Governor and Assembly as follows:
1 This Act may be cited as the Electricity Act.
2 In this Act,
(a) "Board" means the Nova Scotia Utility and Review Board;
(b) "wholesale customer" means Nova Scotia Power Incorporated, the electric utilities of the towns of Antigonish, Berwick, Canso, Lunenburg and Mahone Bay and The Electric Light Commissioners for Riverport, in the County of Lunenburg.
3 (1) Effective on the date prescribed in the regulations and, for greater certainty, notwithstanding Section 303 of the Municipal Government Act, wholesale customers may purchase electricity from any competitive supplier.
(2) Nova Scotia Power Incorporated shall develop and file with the Board for approval an open access transmission tariff to enable the purchase of electricity for the purpose of subsection (1) and, for greater certainty, Section 77 of the Public Utilities Act does not apply.
(3) The tariff referred to in subsection (2) must ensure open and non-discriminatory access to wholesale customers.
(4) Nova Scotia Power Incorporated shall develop and maintain a system to facilitate the import and export of electricity from the Province for the purpose of this Section.
(5) The Board has all the power and authority necessary to implement this Section.
4 (1) Commencing January 1, 2006, or such other date as prescribed in the regulations, a person who sells or supplies electricity to a customer shall comply with the renewable energy standards set out in the regulations.
(2) Renewable energy standards referred to in subsection (1) must require that a minimum amount of electricity is produced from renewable sources.
5 (1) The Governor in Council may make regulations
(a) setting out the date for the purpose of subsections 3(1) and 4(1);
(b) respecting the tariff referred to in subsection 3(2);
(c) respecting import and export rights;
(d) respecting renewable energy standards, their administration and enforcement;
(e) defining any word or expression used but not defined in this Act;
(f) respecting any other matter the Governor in Council considers necessary or advisable to carry out effectively the intent and purpose of this Act.
(2) The exercise by the Governor in Council of the authority contained in subsection (1) is regulations within the meaning of the Regulations Act.
6 This Act comes into force on such day as the Governor in Council orders and declares by proclamation.
---
This page and its contents published by the Office of the Legislative Counsel, Nova Scotia House of Assembly, and © 2004 Crown in right of Nova Scotia. Created October 20, 2004. Send comments to
legc.office@novascotia.ca
.