BILL NO. 191
(as introduced)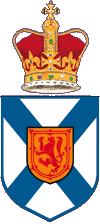 2nd Session, 63rd General Assembly
Nova Scotia
68 Elizabeth II, 2019
Government Bill
An Act Respecting the Candidacy
of Municipal Councillors
for Other Elected Offices

The Honourable Chuck Porter
Minister of Municipal Affairs and Housing
First Reading: October 10, 2019
Second Reading:
Third Reading:
Explanatory Notes
Clause 1 amends the Municipal Elections Act to provide that the leave of absence of a municipal employee, who takes a leave of absence to run as a candidate for municipal office, serves as a councillor and then runs for a provincial or federal office, expires if the person resigns in accordance with a municipal policy.
Clauses 2 and 3 amend the Municipal Government Act and Halifax Regional Municipality Charter to require municipal councils to establish policies respecting councillors running for other political offices and sets out what those policies must address.
Clause 4 provides that this Act comes into force upon proclamation.
Be it enacted by the Governor and Assembly as follows: