BILL NO. 187
(as introduced)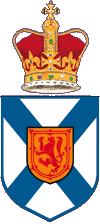 2nd Session, 63rd General Assembly
Nova Scotia
68 Elizabeth II, 2019
Government Bill
House of Assembly Act
(amended)
The Honourable Mark Furey
Attorney General and Minister of Justice
First Reading: October 9, 2019
Second Reading: October 10, 2019
Third Reading: October 22, 2019 (LINK TO BILL AS PASSED)
Explanatory Note
This Bill creates 55 electoral districts as recommended by the April 2019 report of the Electoral Boundaries Commission.
Be it enacted by the Governor and Assembly as follows:
1 Section 4 of Chapter 1 (1992 Supplement) of the Revised Statutes, 1989, the House of Assembly Act, is repealed and the following Section substituted:
4 (1) The House is composed of fifty-five members, of whom one is elected from each of the fifty-five electoral districts named as follows:

Cape Breton Centre–Whitney Pier

Colchester–Musquodoboit Valley

Truro–Bible Hill–Millbrook–Salmon River

Waverley–Fall River–Beaver Bank

(2) The boundaries of the electoral districts are as recommended in the final report, dated April 2019, of the independent electoral boundaries commission appointed pursuant to Section 5.

(3) The Chief Electoral Officer shall make a digital map showing the boundaries referred to in subsection (2) publicly accessible on the Elections Nova Scotia website.
2 (1) Subsection 7(1) of Chapter 1 is repealed.
(2) Subsection 7(2) of Chapter 1, as amended by Chapter 61 of the Acts of 2012, is further amended by striking out "set out in" in the first and second lines and substituting "determined by".
(3) Subsection 7(3) of Chapter 1, as enacted by Chapter 61 of the Acts of 2012, is amended by striking out "described" in the first line and substituting "recommended in the final report referred to".
(4) Subsection 7(4) of Chapter 1 is repealed.
3 (1) Notwithstanding Section 4, on, from and after the day this Act receives Royal Assent all necessary steps may be taken to establish constituency organizations based on the electoral districts contained in this Act including, for greater certainty, the appointment of officials and committees and the transfer of assets from the constituency organizations that existed before this Act received Royal Assent.
(2) When a constituency organization is established in accordance with subsection (1), the Chief Electoral Officer shall, notwithstanding Section 4, recognize and deal with the new constituency organization for the purpose of performing the functions of the Chief Electoral Officer.
(3) All actions taken pursuant to subsection (1) are effective on, from and after the date they are taken but not before January 1, 2020.
4 Sections 1 and 2 have effect on and after the dissolution or the determination by the effluxion of time of the present House of Assembly or on and after March 1, 2020, whichever is later.
---
This page and its contents published by the Office of the Legislative Counsel, Nova Scotia House of Assembly, and © 2019 Crown in right of Nova Scotia. Created October 29, 2019. Send comments to
legc.office@novascotia.ca
.