BILL NO. 77
(as introduced)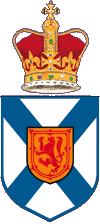 2nd Session, 60th General Assembly
Nova Scotia
56 Elizabeth II, 2007





Private Member's Bill




Defibrillators Act
H. David Wilson
Glace Bay
First Reading: December 5, 2007
Second Reading:
Third Reading:
Be it enacted by the Governor and Assembly as follows:
1 This Act may be cited as the Defibrillators Act.
(a) "defibrillator" means an automated external medical heart monitor and defibrillator that is capable of
(i) recognizing the presence or absence of ventricular fibrillation or rapid ventricular tachycardia,
(ii) determining, without intervention by an operator, whether defibrillation should be performed, and
(iii) automatically charging and requesting delivery of an electrical impulse to an individual's heart as medically required;
(b) "Minister" means the Minister of Health;
(c) "municipal unit" means a municipal unit as defined in the Municipal Government Act;
(i) in the case of a provincially owned public building, Her Majesty in right of the Province,
(ii) in the case of a building owned by a municipal unit, the municipal unit, and
3 Every owner of a building as determined under the regulations shall make a defibrillator available in the building within the time set out in the regulations.
4 Every owner, who makes a defibrillator available in accordance with Section 3, shall make it available in accordance with the guidelines referred to in Section 5.
(a) develop and issue training and education guidelines for the proper use and maintenance of defibrillators; and
(b) develop a procedure for the installation, use and inspection of defibrillators in the Province.
(2) The guidelines and procedure referred to in subsection (1) shall be developed in consultation with Provincial and municipal emergency service providers.
6 No action may be brought against any person, Her Majesty in right of the Province or a municipal unit who
(a) in good faith, without gross negligence or wreckless misconduct, uses a defibrillator to provide emergency assistance to a person in need of emergency assistance; and
(b) in good faith makes a defibrillator available in a building in accordance with this Act.
7 (1) The Minister may make regulations
(a) respecting the inspection of defibrillators;
(b) respecting buildings or classes of buildings in which defibrillators shall be used;
(c) prescribing time lines within which owners must make defibrillators available;
(d) defining any word or expression used but not defined in this Act;
(e) the Minister considers necessary or advisable to carry out effectively the intent and purpose of this Act.
(2) The exercise by the Minister of the authority contained in subsection (1) is regulations within the meaning of the Regulations Act.
---
This page and its contents published by the Office of the Legislative Counsel, Nova Scotia House of Assembly, and © 2007 Crown in right of Nova Scotia. Created December 5, 2007. Send comments to
legc.office@novascotia.ca
.