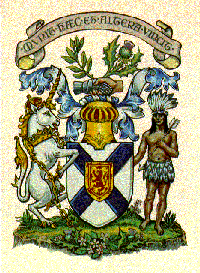 Remission of Penalties Act
CHAPTER 397
OF THE
REVISED STATUTES, 1989
amended 1999 (2nd Sess.), c. 8, ss. 14, 15
---
NOTE - This electronic version of this statute is provided by the Office of the Legislative Counsel for your convenience and personal use only and may not be copied for the purpose of resale in this or any other form. Formatting of this electronic version may differ from the official, printed version. Where accuracy is critical, please consult official sources.
---
An Act Respecting the
Remission of Certain Penalties

Short title
1 This Act may be cited as the Remission of Penalties Act. R.S., c. 397, s. 1.
Remission by court or judge
2 Where a pecuniary penalty or forfeiture is imposed by any Act of this Province, the court or judge or justice of the peace having cognizance of the proceedings may at any time after the commencement thereof, remit in whole or in part, any sum of money by such Act imposed as a penalty or forfeiture on a convicted offender, and may do so whether the money is in whole or in part payable to the Crown, or to some person other than the Crown, and whether the same is recoverable by indictment, information, summary process, action or otherwise. R.S., c. 397, s. 2; 1999 (2nd Sess.), c. 8, s. 14.
3 repealed 1999, (2nd Sess.), c. 8, s. 15.
Remission by Governor in Council
4 The Governor in Council shall also have power at any time to remit any such penalty or forfeiture, in whole or in part, unless the same is imposed by the Elections Act or the Municipal Elections Act or by any Act respecting elections of members of the House of Assembly, or is recoverable in respect of an offence committed in connection with an election of a member of the Assembly. R.S., c. 397, s. 4.
No remission of costs
5 This Act shall not be construed to include the power of remitting any costs incurred up to the time of remitting the penalty or forfeiture. R.S., c. 397, s. 5.
---
This page and its contents published by the Office of the Legislative Counsel, Nova Scotia House of Assembly, and © 2001 Crown in right of Nova Scotia. Created December 17, 2001. Send comments to legc.office@gov.ns.ca.