BILL NO. 100
(as passed, with amendments)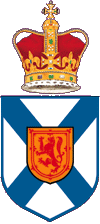 2nd Session, 62nd General Assembly
Nova Scotia
64 Elizabeth II, 2015





Government Bill




Universities Accountability and Sustainability Act

CHAPTER 11 OF THE ACTS OF 2015






The Honourable Kelly Regan
Minister of Labour and Advanced Education
First Reading: April 22, 2015 (LINK TO BILL AS INTRODUCED)
Second Reading: April 27, 2015
Third Reading: May 5, 2015 (WITH COMMITTEE AMENDMENTS)
Royal Assent: May 11, 2015
An Act Respecting Accountability
and Sustainability of Universities
Be it enacted by the Governor and Assembly as follows:
1 This Act may be cited as the Universities Accountability and Sustainability Act.
(a) "grant" means a grant to a university made pursuant to this Act;
(b) "Minister" means the Minister of Labour and Advanced Education;
(c) "outcomes agreement" means an agreement entered into by the Minister and a university pursuant to Section 19;
(d) "prescribed" means prescribed by the regulations;
(e) "significant operating deficiency" means an operating deficiency of a university that, in the opinion of the person who is determining pursuant to this Act whether a significant operating deficiency exists, can reasonably be expected to threaten the ability of the university to continue as a going concern under the existing financial framework, based on a five-year financial forecast and opinion, verified by an independent financial professional, that forecasts
(i) a significant annual operating deficit or significant cash flow deficiency in at least one year during the five-year period, or

(ii) a pattern of operating deficits or cash flow deficiencies during the five-year period.
(2) Except as otherwise provided in this Act, words and expressions used in Sections 6 to 8, 14, 16, 21 and 22 have the same meaning as in Part I of the Trade Union Act.

(3) In the event of a conflict between Sections 6 to 8, 21 and 22 and any other enactment or any collective agreement, arbitral or other award or decision, obligation, right, claim, agreement or arrangement of any kind, Sections 6 to 8, 21 and 22 prevail.
---
This page and its contents published by the Office of the Legislative Counsel, Nova Scotia House of Assembly, and © 2015 Crown in right of Nova Scotia. Created May 11, 2015. Send comments to legc.office@gov.ns.ca.