BILL NO. 39
(as introduced)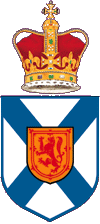 1st Session, 61st General Assembly
Nova Scotia
58 Elizabeth II, 2009





Government Bill




Uranium Exploration and Mining Prohibition Act

The Honourable John MacDonell
Minister of Natural Resources
First Reading: October 14, 2009
Second Reading: October 26, 2009
Third Reading: November 3, 2009 (LINK TO BILL AS PASSED)
An Act to Prohibit Uranium Exploration
and Uranium Mining in Nova Scotia

Be it enacted by the Governor and Assembly as follows:
1 This Act may be cited as the Uranium Exploration and Mining Prohibition Act.
2 The purpose of this Act is to prohibit exploration for or mining of uranium in order to protect the health and safety of Nova Scotians and the quality of their environment.
3 (1) In this Act, "exploration" means the search for uranium orebodies by any means.
(2) Unless the context indicates otherwise, words and expressions in this Act have the same meaning as in the Mineral Resources Act.
4 Where there is a conflict or inconsistency between this Act or the regulations and any other enactment, this Act and the regulations prevail.
5 (1) No person shall carry out exploration for or conduct mining of uranium.
(2) No exploration or special licence or mineral or special lease granted under the Mineral Resources Act, whether issued before or after the coming into force of this Act, authorizes the holder of the licence or lease to carry out exploration for or mining of uranium.
(3) A person who carries out mining of uranium in the course of mining for some other mineral is not guilty of an offence under this Section if
(a) the uranium content of the total amount of material then removed from the land being mined does not exceed 0.01 per cent by weight; and
(b) the person complies with all conditions prescribed by the regulations for the mining, treatment, handling and disposal of material containing uranium.
(4) Nothing in this Section prevents a person from using radiometric or other means for exploring for a mineral other than uranium.
6 (1) A person who contravenes this Act or the regulations is guilty of an offence and liable on summary conviction to a fine of not more than two thousand dollars.
(2) Where an offence under this Act is committed or continued on more than one day, the person who committed the offence is liable to be convicted for a separate offence for each day on which the offence is committed.
7 (1) The Governor in Council may make regulations respecting any matter the Governor in Council considers necessary or advisable to carry out effectively the intent and purpose of this Act.
(2) The exercise by the Governor in Council of the authority contained in subsection (1) is regulations within the meaning of the Regulations Act.
---
This page and its contents published by the Office of the Legislative Counsel, Nova Scotia House of Assembly, and © 2009 Crown in right of Nova Scotia. Created November 9, 2009. Send comments to legc.office@gov.ns.ca.